We CAN! Abolish Nuclear Weapons
Saturday 6 August 2016
Nathan Phillips Square & Peace Garden, Toronto
International Peace Activist Setsuko Thurlow
Hiroshima Survivor & 2015 Arms Control Person of the Year
2016 Grammy-Nominated Flutist Ron Korb • Raging Asian Women Taiko Drummers • Pax Christi Chorale • Toronto's Raging Grannies
Free, open to the public and family-friendly
4:30pm

Community Tables

6:30pm

Commemoration

8:30pm

Closing
…and join us for the
Hiroshima & Nagasaki
Poster and Survivors'
Artwork Display
City Hall Rotunda
August 9-15, 2016
10am–5pm
The Hiroshima/Nagasaki Day Coalition:
Canadian Voice of Women for Peace
Japanese Canadian Cultural Centre
Toronto Area Interfaith Council
Tao Sangha Global Community
Physicians for Global Survival
Toronto Buddhist Church
Hiroshima Kenjin Kai
Pax Christi Toronto
Science for Peace
Toronto Article 9
Hiroshima/Nagasaki Remembrance
Saturday 6 August 2016
Nathan Phillips Square and Peace Garden, Toronto
4:30pm

Community Tables

6:30pm

Commemoration

8:30pm

Closing
International Peace Activist Setsuko Thurlow
Hiroshima Survivor & 2015 Arms Control Person of the Year
2016 Grammy-Nominated Flutist Ron Korb
Raging Asian Women Taiko Drummers
Pax Christi Chorale
Toronto's Raging Grannies
This event is free, open to the public and family-friendly
Hiroshima/Nagasaki Remembrance
Thanks to extensive lobbying of Toronto City Council by peace and interfaith groups from 2007 on, the Peace Garden was rededicated on May 18, 2016.
Traditional Aboriginal Elder Cat Crieger welcomed the audience to the original lands of the First Nations on which City Hall stands.
Presentations were made by Scott Sorli of the Nathan Phillips Square Community Advisory Committee, the Jarvis Collegiate Institute Choir, Toronto Poet Laureate Anne Michaels and the Parliamentary Poet Laureate George Elliott Clarke.
Mayor John Tory, the Consul General of Japan Yasunori Nakayama, Hiroshima Peace Ambassador Setsuko Thurlow, Zul Kassamali, Chair of the Toronto Area Interfaith Council, Father Massey Lombardi and Phyllis Creighton of the Hiroshima Nagasaki Day Coalition made moving appeals for peace. (Photographs by Michael Chambers).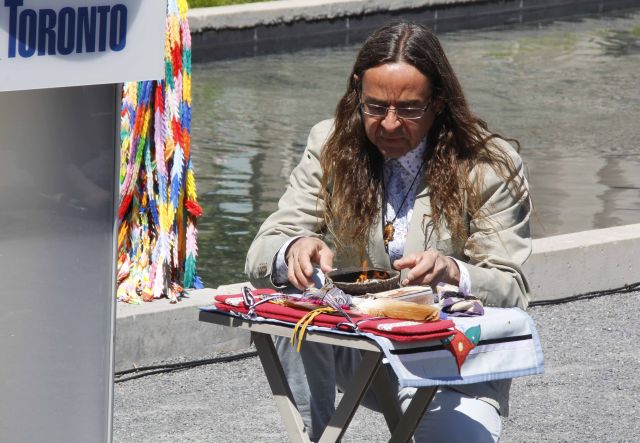 Cat Crieger performing the traditional smudging ceremony.

The Consul General of Japan Yasunori Nakayama.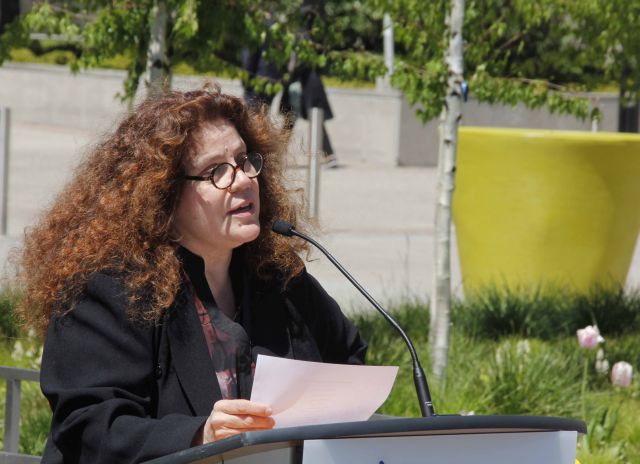 Toronto Poet Laureate Anne Michaels.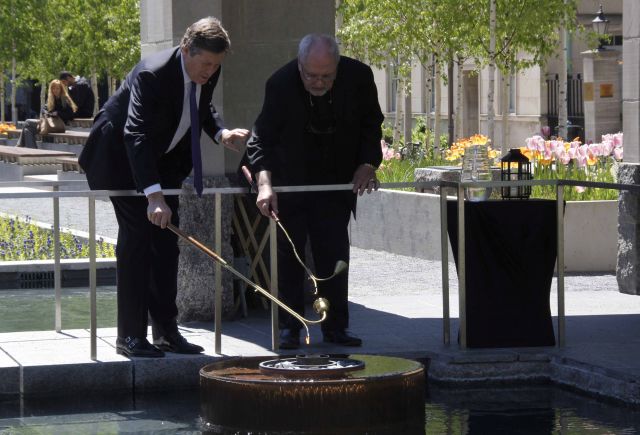 Mayor John Tory and Father Massey Lombardi light the flame of peace.

Setsuko Thurlow pouring water from Nagasaki into the reflecting pool as a symbol of solidarity and peace.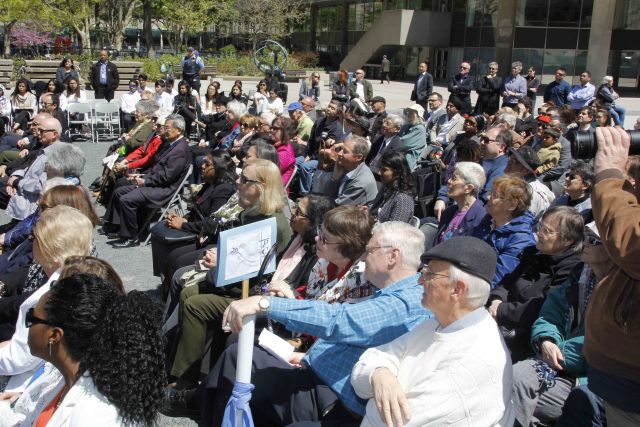 The audience at the May 18 rededication.